James Watson Male Model, high school models, high school male models, young brothers modeling,
James E. Watson, Jr.
Last Update: 07/13/11
Congratulations to James for Graduation from Norfolk State University in May 2011 with a B. S. Degree in Optical Engineering. Thanks to all who helped in contributing to his education process.
It seems almost like just the other day when James first started modeling with The Sock Man Socks & Shoes. Now 6 years later he is still going strong and still a great model.
JW's New Venture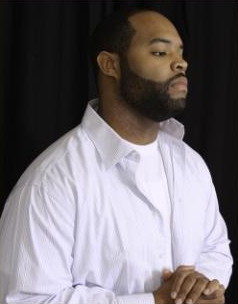 James is now a member of S. I. C. K. (Stewards Influencing Culture for the Kingdom), a Christian rap group based out of Virginia Beach, VA. They have produced several hits and have a CD.
Check out the group's web site at: www.sick-records.com
I am really proud of you James!!! Purchase some a music CD today!
Then

October 19, 2004

Now

March 14, 2009
JW Also will be featured on a new Gospel CD to be released March 2009. Stay tuned!!!
For more details on how you may help, contact myself - C. J. White, Jr. at (757) 934-1929 or email: sockit2unow@aol.com.
Last Update: 03/16/09 -- Page Under Construction
Ht.
Wt.
Hair

Color

Eye

Color

Age
Waist
Inseam
Shoulders

Coat Size

Shoe

Size

Zodiac

Sign

Nickname
6' 0"
254 lbs.
Black
Brown
23
38
32
46R
12/13D
Sagittarius
None
Hobbies & Interests: Sports -- Football, Track, Basketball, Christian Rap
James E. Watson Model Pages
MAIN Model Page

Main Page

Unplanned Initial Photo Shoot

June 28, 2004

Church Anniversary

October 19, 2004

Oudoor Dressed Shots

September 26, 2004

Casual Set

September 26, 2004

Ribbed Sock Photo Shoot

November 24, 2004

Coming Soon!

Gold Medal Hosier Sock Photo Shoot

February 14, 2004

Coming Soon!

James

The Athlete

Fall 2004 & Fall 2005

Coming Soon!

Down Town Norfolk

December 11, 2005

Coming Soon!

More

to

Come!

High School Memory Book

Under Construction!

James Watson

2006 Men of Tomorrow Candidate

Under Construction!

SMSS Studios

March 14, 2009
James Chillin July 10, 2005
James Modeling Stacy Adams Mesh Socks -- Black
Move Mouse Across Black Box Above to View Clip
J. W. Short Model Video -- Clevis XL0607 & SHNXHBLK-O Socks.
These & Other Socks Modeled by James are Available for Purchase.
Check Out James' Sock Drawer by Clicking on Photo Below:
TNTBLK-A
Contact Info, send email to: sockit2uno2@aol.com .
For modeling related info, send email to sockit2unow@aol.com .
Page Provided by: The Sock Man Socks -- www.sockmansocks.com