sheer designer socks, sheer nylon designer socks, designer socks, men's designer socks, custom designed socks, socks with studs, socks with spikes, stud socks, spike socks, trampling socks, socks for trampling, cruel socks, mean socks, bad ass socks, hot socks, jeweled socks, hiphop gear, thug gear, thug look, thugged out, thuggedout, studded socks, spiked socks,
Men's Designer Socks
from
The Sock Man Socks & Shoes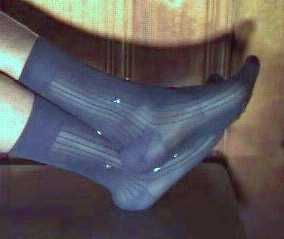 For Those Living on the Edge!
Finally it is here! Designer Socks from The Sock Man Socks & Shoes! Ever wanted a special design on a pair of socks? Well now you can get it. You can get Spikes, Studs, Glitter, Logos, Jewels, Chains, Etc.

9-Studded Socks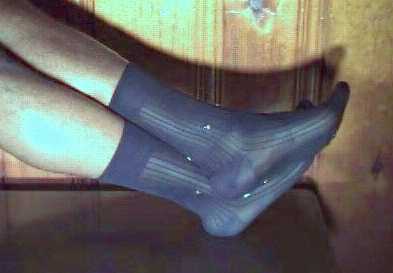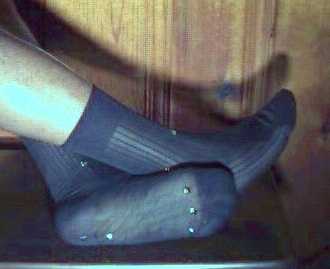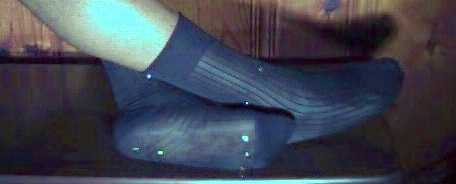 Here a pair of TNTBLK-A Socks modeled by C. J., The Sock Man, Size 12. Below a closer view of the studs.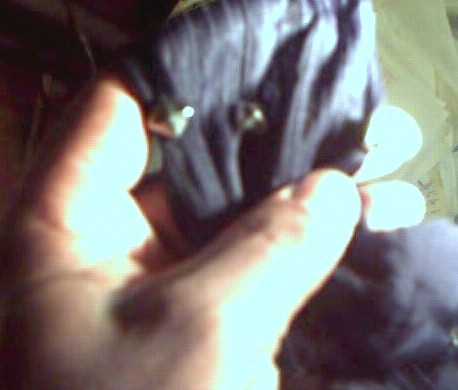 Socks are Studded with Four (4) Studs or Spikes around the ankle, Three (3) across the ball of the foot, and Two (2) along the heel. This design can be placed on any socks sold by The Sock Man Socks & Shoes or you may supply your own socks for the design -- $12 / Pair of Socks (Sock Man Socks & Shoes Socks Extra). If sending your own socks for special designs, this must be specified prior to sending payment in order that you will receive correct instructions on shipping these items to The Sock Man Socks & Shoes. Each Pair Come with a Signature Logo, Signed by The Sock Man, C. J. See Shipping & Handling, See Below (*)
Corresponding Item Numbers: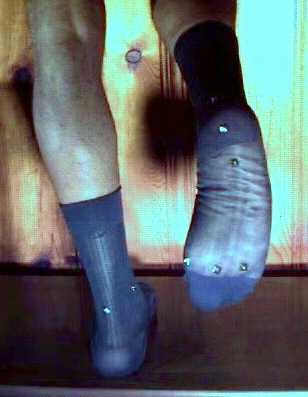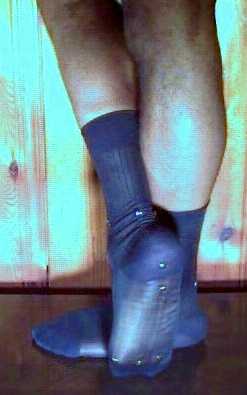 Item Numbers: Chrome Studs (9STUDCHR-1)
WARNING:
Studs Worn on the Bottoms of Socks Should Be Worn As A Novelty Item ONLY. Meaning Not For Prolonged Use or for Wearing in Shoes. This Can Cause Cuts or Scratches to the Bottoms of the Feet.
ADULT CONTENT: For Special Adult Content to be Added, Please State Your Date of Birth in the Email along Adult Content Requested. Also There Are Some Adult Content Slogans You May Choose from as Well. Adult Content Jeans Will NOT be Sold to Persons Under Age 18. There will be an additional charge for Adult Content Text.

Also Available! Custom Designed Logo Socks. Click on Link Below. Stay Tuned for These Wild & Exciting Designs Coming Soon!

Special Request Designer Socks
Special Request Designer Jeans Will be Taken. Pricing will depend on the type of socks, fabric, detailed work and time required. Items that may require too much detail may be denied.

(*) Shipping & Handling
$1.00 / Pr. U. S. Shipping & Handling
$2.00 / Pr. International Shipping & Handling
Returns
Items may only be returned if request is made within ten (10) days of receipt. The following conditions apply:
* Item must be in resaleable condition.
* Item must not show signs of wear.
* Items must be return shipped at the purchaser's expense.
* Items may only be returned after receiving authorization for return from The Sock Man Socks & Shoes.
* Socks not purchased from The Sock Man Socks & Shoes, but only customized here may not be returned.
*Intentionally mutilated items may not be returned
Click Below to Order Now
Men's Custom Designed Logo Socks